By: Kristine Bedell, PT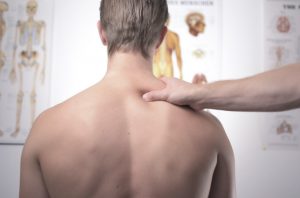 Often times, people seek physical therapy treatment with the complaint of "pain," which can be in various locations and described with even more varying adjectives. However, another common report we hear is "stiffness," but what does it mean to be "stiff?"
It may be described differently by each individual but typically we see feelings of tight muscles, difficulty moving through joint range of motion, slow movement, and difficulty transitioning or performing everyday movements with ease. So what is this feeling telling us? If feeling cold makes us seek warmth and feeling thirsty makes us drink, what does feeling stiff tell us?  
A study published in 2017 (Stanton, Moseley, Wong, & Kawchuck) sought to answer these very questions- specifically pertaining to stiffness in the lower back. The hypothesis of feeling back stiffness related to objective biomechanical back stiffness was looked at by comparing the subjects' rated level of stiffness with objective spinal motion measurements. They found these do not correlate; therefore, feeling stiff does not equate to being stiff.  
Since people with feelings of back stiffness may not be objectively stiff, the authors hypothesized that the feeling of back stiffness may act as a protective mechanism. Subjects were then asked to estimate forces applied to their backs and to detect changes in these forces. It was found that subjects who reported a high level of stiffness overestimated forces and were more sensitive to detecting changes in forces which is indicative of a protective response.    
The authors conclude, feeling stiff may make us slow down movements to prevent potential injury. This study provides preliminary data that supports what I see with patients in the clinic. I often see patients complain of feeling stiff either before or after an acute painful episode. As I mentioned before, feeling cold makes us seek warmth and feeling thirsty makes us drink; therefore, feeling stiff can be indicative of future injury, pain, or recovery.  
My back pain patients are always reminded to continue with the provided home exercise or stretch even after discharge to prevent recurrence of back pain. Instead of waiting until you are in pain, feeling stiff may be the first sign that your body is trying to protect itself. You should then resume your physical therapist directed exercises or seek further treatment as needed.
—
References:
Stanton, T., Moseley, G., Wong, A. and Kawchuk, G. (2017). Feeling stiffness in the back: a protective perceptual inference in chronic back pain. Scientific Reports, [online] 7(1). Available at: https://www.nature.com/articles/s41598-017-09429-1.