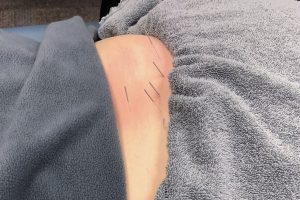 When a therapist performs dry needling, he or she uses a small needle under the skin to target tight points within a tissue that produce or refer pain.  Very broadly, it is a form of instrument-assisted manual therapy, which allows practitioners access to tissues which would not be readily available for manipulation with the hands.  Dry needling is similar to acupuncture, but is very different at the same time.  Acupuncture has been practiced for thousands of years and is based on a more eastern approach to medicine, while dry needling in a newer approach to treating trigger points and is based on a western approach to medicine.  Dry needling is also only a part of a physical therapy treatment.  It is used with other manual techniques, exercises, and modalities such as heat or ice.  Many therapists who utilize dry needling refer to it as a "tool on their tool belt."  This simply means it is part of a therapist's broader plan of care for improving the quality of life of their patients.
Dry needling is mainly based on the work of Dr. Janet Travell and Dr. David Simons as well as Dr. Chan Gunn, who developed theories and published works based on trigger point research and intramuscular stimulation.  They believed these trigger points were the cause of many patients' chronic and long lasting pain.  The exact mechanism behind trigger point occurrence, as well as the mechanism behind why dry needling works, is still unknown, although a growing body of evidence confirms that it does work.
Physical therapists are musculoskeletal experts and are the most qualified to perform dry needling.  Physical therapists have always been heavily trained in musculoskeletal interventions, and as the education level has progressed to a doctorate degree, the number of clinicians who have been exposed to dry needling is growing.  On top of graduating with a physical therapy degree, the number of continuing education hours to perform dry needling on patients varies state to state, ranging from 40 hours to as many as 100 continuing education hours.  The focus on continuing education makes dry needling a safe treatment for physical therapists to perform.
Some common pathologies that dry needling is used to treat include trigger points, headaches, carpal tunnel syndrome, lateral epicondylitis (tennis elbow), plantar fasciitis, radiculopathy, and neck and back pain.  Treating these conditions and more from a therapist who is trained in dry needling is an easy and safe addition to a plan of care and will speed recovery and return to function of patients.
Adding dry needling to a plan of care is an excellent way to treat a variety of conditions many people face on a regular basis.  When performed by a trained physical therapist, this treatment technique is safe and efficient, with minimal adverse effects.  Talk to your physical therapist to see if you are a candidate for this treatment and about adding this to your plan of care to further address your symptoms and speed your recovery to full function.