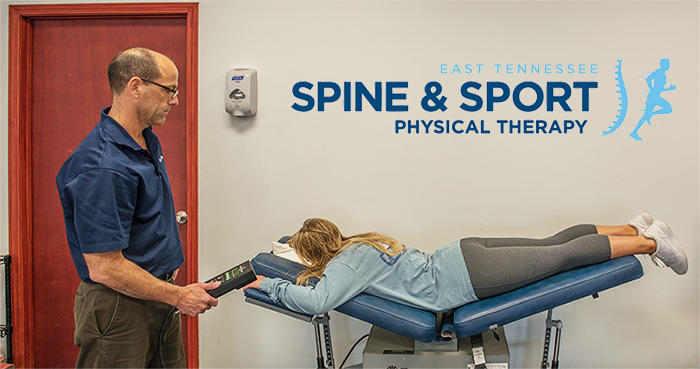 Prior to Initial Visit: What Can I Expect?
At East Tennessee Spine and Sport, we work with you, your physician and insurer to provide a coordinated approach that gets you back to daily activities, productive employment, and an active lifestyle. Our goal is to restore patients to the highest level of function, as quickly as possible, with active treatments and evidence-based medicinal approaches.
Prescription for treatment: Most patients come to us with a prescription for physical therapy that was issued by their physician, this prescription is similar in form to what you take to the drugstore for medicine, and includes recommendations for treatment. Don't have a prescription yet? Don't worry. We can also see patients without a prescription for up to 6 visits.
Find the location that's right for you: Click Here to find the Spine and Sport that's most convenient for you. We offer early morning and late evening appointments.
Insurance verification: Our staff will verify your insurance and notify you prior to the time of your appointment of your insurance benefits.
During Your First Appointment: A Plan to Heal
Time: 60-90 minutes
What to wear: We usually recommend that patients wear looser-fitting clothing and/or exercise clothing along with sneakers for maximum comfort.
Patient registration forms: Please arrive 10-15 minutes early to allow time to complete your new patient registration forms. Want to get a head start? Click Here for forms to fill our ahead of time. You may also email them to the clinic ahead of time. Not sure where to email? Click Here.
Our front office staff will review any questions, schedule all of your appointments, and collect your payment, as applicable, at each visit.
Evaluation with your Physical Therapist: You will meet with a licensed physical therapist who will evaluate your injury, condition and/or concerns. Our highly trained and qualified clinicians will help you understand your current diagnosis and discuss your treatment options. We will create a specialized plan of care based upon the goals you wish to achieve.
At Spine and Sport, we know that each patient needs an individual treatment plan based upon their diagnosis, these can range from a sports-related injury to a complete joint replacement. At this time we will place you with a Physical Therapist, Physical Therapist Assistant, or Exercise Physiologist to provide personalized care and to help you meet your individual needs.
Next Steps-Follow-up Visits: The Road to Full Recovery
Time: 45-75 minutes; the length of your treatment plan and frequency of visits is based on your specific injury/condition, the physician prescription, your insurance plan, and the therapist's recommended treatment plan.
Every Visit: We will establish a recovery program specific to your individual needs to ensure your return to desired activities. Our goal is to provide patients with interventions to regain functional mobility and improve quality of life, as well as prepare you to become independent with self-treatment and aid in prevention of recurrent episodes.
You will work with a member of our clinical team who will instruct and supervise your care. As you reach specific treatment goals, you will progress to new levels, treatments and exercises.
At the end of each visit, your therapist may send you with home exercises, and will answer any questions you may have. This is a perfect opportunity to share your thoughts, revisit your goals, and discuss any other pertinent information with your therapist.
In order for our clinical team to get you back to optimal functionality in a quick and safe manner, you will likely have 2-3 appointments per week. We offer flexible hours, including early morning and late evening appointments, to fit your busy schedule.
Your therapist will maintain regular contact with your doctor, surgeon and/or case manager to ensure timely updates on your progress.
Home Exercise Programs/Maintenance Program: Ways to Continue Independently
At East Tennessee Spine and Sport, our primary goal is to return you to activities you desire, without needing us long term. We want you to treat and educate you with the tools to continue your program on your own.
You may be provided with a home exercise program that compliments your plan of care. The home program is an important part of the healing process and will assist you in achieving your goals.
We also offer a maintenance program at some of our facilities, in which you can continue to utilize the facility equipment, similar to a gym membership structure. Please call our office for more information.